The blemish
Time and gravity are a dangerous combination for facial skin. Due to a reduced production of elastic fibres, the skin's structure and supporting muscles weaken, leading to a loss of the facial oval.
DIBI MILANO offers an anti-aging action aimed at strengthening the skin's structure through the stimulation of collagen and elastin: the volumes of the face are repositioned, for a long-lasting lifting effect. The facial oval is immediately more youthful and relaxed.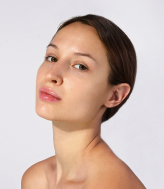 Are you ready to take care of your skin?
Ask for information
Enter the data of your beauty centre and your personal details.
conversational.request_info.dibi_center_title
conversational.request_info.dibi_center_text
Your request has been submitted.
You will be contacted as soon as possible