KRF - Keramos Radio Frequency
SKU AP000243
Capacitive radio frequency with fractional emission to ceramic transducers
Technologies properties
KRF uses a capacitive and fractional radio frequency system with high-performance ceramic transducers to firm and sculpt the face and body, giving a more youthful appearance.
Features
KRF delivers "Skin Rejuvenation" by stimulating functional fibroblast activity and helping to improve skin elasticity and tissue permeability.
For Face treatments, it uses two specific and innovative handpieces:
Small Face Handpiece - Just 5 mm in diameter, this very small handpiece allows professionals to target wrinkles with extreme precision.
Large Face Handpiece - With a 32 mm diameter, this handpiece is used for the functional treatment of all areas of the face.
Results
The stimulation of fibroblast activity results in new collagen and elastin synthesis with a consequent lifting, anti-aging effect*, for tighter, smoother skin.

*Cosmetic lifting effect.
The range
Discover all the solutions of the TECHNOLOGIES line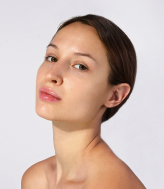 Are you ready to take care of your skin?
Ask for information
Enter the data of your beauty centre and your personal details.
conversational.request_info.dibi_center_title
conversational.request_info.dibi_center_text
Your request has been submitted.
You will be contacted as soon as possible