Fisiotron
SKU AP000268
Integrated Multitech System for sculpting and shaping the body
Technologies properties
FISIOTRON uses 4 different energy emissions synergistically: Electrostimulation, Ultrasound, Microcurrent and Elastic Waves.
Features
Thanks to the MULTITECH Integrated System, it offers the most effective solutions in the field of aesthetics, such as:
Deep muscle toning
Buttocks lifting and toning
Silhouette reshaping
Reduction of the panniculus adiposus
Reduction of cellulite-related imperfections
Reduction of oedema and venous and lymphatic drainage
Effective tissue toning
Results
Safely and effectively, FISIOTRON allows you to obtain sensational results proven by clinical-instrumental efficacy tests and ultrasound results:
- 1 size*
- 1 liter of extracellular water and above**
Women subjected to the complete FISIOTRON treatment are considered 100% SATISFIED***:
Firming and lifting of the buttocks
Reduced thigh and hip profile
Contrasted orange peel skin
Perceived draining action
Smooth and compact skin after just 3 weeks
* Self-assessment (according to 95% of the volunteers who underwent the complete cycle of 12 treatments).
** Instrumental test (measurements taken after a complete cycle of 12 treatments).
*** Self-assessment tests conducted on the complete Fisiotron treatment (12 sessions).
The range
Discover all the solutions of the TECHNOLOGIES line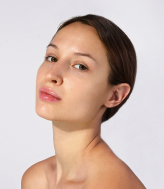 Are you ready to take care of your skin?
Ask for information
Enter the data of your beauty centre and your personal details.
conversational.request_info.dibi_center_title
conversational.request_info.dibi_center_text
Your request has been submitted.
You will be contacted as soon as possible