Biostimulating treatment
Promotes skin rejuvenation, boosting its resistance to the effects of ageing, with biostimulating properties.
BIOSTIMULATING SYSTEM LAB is the BIOSTIMULATING line of cosmetics by DIBI MILANO.
This powerful treatment is designed to boost the skin's natural rejuvenation mechanisms, rebalancing its key molecules.
It strengthens the skin's resistance to the effects of ageing and oxidative damage, reactivating supportive fibres like collagen for a younger and healthier appearance.
The line has 3 main features:
Preservative-free, with products manufactured in a sterile environment;
Includes a patented active ingredient, Sonicated Hyaluronic Acid, which contains an exclusive blend of three different molecular weights of Hyaluronic Acid for powerful, biostimulating, and bio-revitalising hydration that reaches every level of the skin;
Formulated with minimal INCI and only 4 functional ingredients: Sonicated Hyaluronic Acid, PDRN, Vitamin C and PP.
The core of the treatment
The BIOSTIMULATING SYSTEM LAB treatment promotes skin rejuvenation through biostimulating effects delivered by the line's 4 functional ingredients.
*In vitro testing
The Intensive Biostimulating Protocol forms the core of the treatment.
Two formulas work simultaneously: PURE SONICATED HA SOLUTION, a patented blend of 3 types of Hyaluronic Acid for anti-ageing*, bio-revitalising, biostimulating effects, and PDRN + VIT C + VIT PP SOLUTION, a blend of functional ingredients that stimulate collagen*, leaving the skin looking luminous and rejuvenated.
Biostimulating System Lab efficacy tests
DIBI MILANO solutions guarantee real results, visible and proven by efficacy tests.
Provides the skin with structure and support*

Glycoproteins that bind to skin cells, filling in wrinkles**.

Mediators expressed by fibroblasts in response to damaged skin**.

Tested and proven through cellular renewal tests***.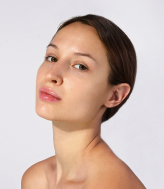 Are you ready to take care of your skin?
Ask for information
Enter the data of your beauty centre and your personal details.
conversational.request_info.dibi_center_title
conversational.request_info.dibi_center_text
Your request has been submitted.
You will be contacted as soon as possible