The blemish
Mature skin is characterised by wrinkles, loss of elasticity and compactness, poor luminosity. These imperfections are caused by endogenous and exogenous ageing processes.
DIBI MILANO proposes a targeted treatment that restructures and protects the skin by counteracting the endogenous and exogenous processes of aging.
Specifically, the treatment protocol works through:
promoting collagen synthesis and preserving elastin fibres
preserving the biological resources
increasing the cells defences by protecting the skin against external agents.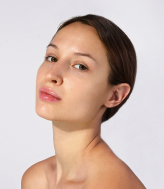 Are you ready to take care of your skin?
Ask for information
Enter the data of your beauty centre and your personal details.
conversational.request_info.dibi_center_title
conversational.request_info.dibi_center_text
Your request has been submitted.
You will be contacted as soon as possible